Wyoming Unemployment Insurance Claims Statistics
Current Claims Report | Monthly Tables and Figures | Annual Tables and Figures | Previous Claims Reports | Articles
---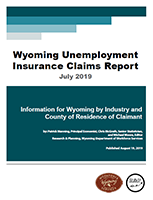 After more than three years of monthly over-the-year decreases, the number of new initial Unemployment Insurance (UI) claims in Wyoming increased by 20.0% in July 2019. The overall increase was driven by a 507.6% increase in initial claims in mining, which was due in large part to mine closures and job losses in Campbell County in July (Graham, 2019).
Initial claims in Campbell County rose from 80 in July 2018 to 423 in July 2019, an increase of 343, or 428.6%.
Continued claims in mining increased by 809 weeks, or 194.5%. Continued claims increased in Campbell (653, or 101.4%), Sublette (42, or 86.7%), Crook (27, or 54.8%), Hot Springs (20, or 76.7%), and Johnson (14, or 19.4%) counties.

Published August 19, 2019.
---
Initial Claims
Continued Claims*
*Information displayed in Initial and Continued Claims are adjusted for monthly comparisons by normalizing the number of weeks in each month to a standard 4.33 weeks.
**NAICS = North American Industry Classification code.
***SIC = Standard Industrial Classification code.
---
---
June 2019 | May 2019 | April 2018 |
March 2018 | February 2019 | January 2019
December 2018 | November 2018 | October 2018 |
September 2018 | August 2018 | July 2018 |
June 2018 | May 2018 | April 2018 |
March 2018 | February 2018 | January 2018
December 2017 | November 2017 | October 2017 |
September 2017 | August 2017 | July 2017 |
June 2017 | May 2017 | April 2017 |
March 2017 | February 2017 | January 2017
December 2016 | November 2016 | October 2016 |
September 2016 | August 2016 | July 2016 |
June 2016 | May 2016 | April 2016 |
March 2016 | February 2016 | January 2016
---