Wyoming Unemployment Insurance Claims Statistics
Current Claims Report | Monthly Tables and Figures | Annual Tables and Figures | Previous Claims Reports | Articles
---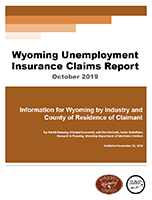 There were 2,186 initial Unemployment Insurance (UI) claims in October, up 4.5% from the 2,092 in October 2018. This marked the fourth consecutive month of over-the-year increases in the number of initial claims.

Over-the-year increases in initial claims were seen in all goods-producing industries, while decreases were seen in all service-providing industries. Initial claims increased in 13 counties, decreased in nine, and remained unchanged in Hot Springs.
Total weeks claimed increased by 9.9% over the year, while the total number of unique claimants increased by 8.9% and the number of benefit exhaustions increased by 15.8%.
Total continued weeks claimed increased by 114.2% in natural resources & mining and 90.5% in manufacturing. Counties that saw increases in continued claims included Campbell, Natrona, and Goshen counties.

Published November 14, 2019.
---
Initial Claims
Continued Claims*
*Information displayed in Initial and Continued Claims are adjusted for monthly comparisons by normalizing the number of weeks in each month to a standard 4.33 weeks.
**NAICS = North American Industry Classification code.
***SIC = Standard Industrial Classification code.
---
---
September 2019 | August 2019 | July 2019 |
June 2019 | May 2019 | April 2018 |
March 2018 | February 2019 | January 2019
December 2018 | November 2018 | October 2018 |
September 2018 | August 2018 | July 2018 |
June 2018 | May 2018 | April 2018 |
March 2018 | February 2018 | January 2018
December 2017 | November 2017 | October 2017 |
September 2017 | August 2017 | July 2017 |
June 2017 | May 2017 | April 2017 |
March 2017 | February 2017 | January 2017
December 2016 | November 2016 | October 2016 |
September 2016 | August 2016 | July 2016 |
June 2016 | May 2016 | April 2016 |
March 2016 | February 2016 | January 2016
---