Wyoming Unemployment Insurance Claims Statistics
Weekly Claims Reports | Current Monthly Claims Report | Monthly Tables and Figures | Annual Tables and Figures | Previous Monthly Claims Reports | Articles
---
Weekly Unemployment Insurance Claims for Wyoming by County of Residence, Industry, and Selected Demographics, 2019-2020
Updated September 17, 2020, for the week ending September 12, 2020.
Weekly UI Claims Data Table of Contents
---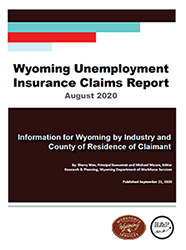 August 2020 Unemployment Insurance Claims Report:
Initial Claims Drop 37% from July

Initial Unemployment Insurance (UI) claims dropped 36.9% from July to August. While UI claims counts are substantially higher from the prior year, both initial and continued claims have decreased consistently after peaking in the spring. Total continued weeks claimed decreased by 21.7% over the month.
Wyoming had 5,134 initial claims in August, down from 8,138 in July ((-3,004, or -36.9%). Initial claims peaked at 20,485 in April, the highest one-month total since at least 1997, the first year for which comparable data are available.
All industries and counties saw double-digit percentage decreases in initial claims from July to August.
The total number of continued weeks claimed decreased from 73,590 in July to 57,636 in August (-15,954, or -21.7%). The total number of unique claimants decreased from 20,898 to 15,909 (-4,989, or -23.9%). Continued claims decreased in all industries and counties over the month.
Published September 21, 2020.
---
Initial Claims
Continued Claims*
*Information displayed in Initial and Continued Claims are adjusted for monthly comparisons by normalizing the number of weeks in each month to a standard 4.33 weeks.
**NAICS = North American Industry Classification code.
***SIC = Standard Industrial Classification code.
---
Updated February 2020.
---
July 2020 |
June 2020 | May 2020 | April 2020 |
March 2020 | February 2020 | January 2020
December 2019 | November 2019 | October 2019 |
September 2019 | August 2019 | July 2019 |
June 2019 | May 2019 | April 2018 |
March 2019 | February 2019 | January 2019
December 2018 | November 2018 | October 2018 |
September 2018 | August 2018 | July 2018 |
June 2018 | May 2018 | April 2018 |
March 2018 | February 2018 | January 2018
December 2017 | November 2017 | October 2017 |
September 2017 | August 2017 | July 2017 |
June 2017 | May 2017 | April 2017 |
March 2017 | February 2017 | January 2017
December 2016 | November 2016 | October 2016 |
September 2016 | August 2016 | July 2016 |
June 2016 | May 2016 | April 2016 |
March 2016 | February 2016 | January 2016
---