Wyoming Unemployment Insurance Claims Statistics
Weekly Claims Reports | Current Monthly Claims Report | Monthly Tables and Figures | Annual Tables and Figures | Previous Claims Reports | Articles
---
Weekly Unemployment Insurance Claims for Wyoming by County of Residence, Industry, and Selected Demographics, 2019-2020
Updated July 2, 2020, for the week ending June 27, 2020.
Weekly UI Claims Data Table of Contents
---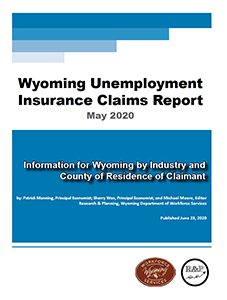 Initial Unemployment Insurance (UI) claims dropped by nearly half from April to May 2020 in Wyoming. However, continued claims increased by 43.6% over the month and 990.1% over the year.
May marked the third straight month of unusually high UI claims due to the COVID-19 pandemic and substantial declines in the prices of oil & gas.
Wyoming had 10,722 initial claims in May, down from 20,485 in April but up from 1,241 in May 2019. Prior to March 2020, the one-month high for initial claims in Wyoming dating back to 1997 (the first year for which comparable data are available) was 5,709 in October 2009.
The unclassified industry had the most initial claims in May, followed by leisure & hospitality, trade, transportation, warehousing, & utilities, and natural resources & mining. Over the year, initial claims increased across all major industries.
Total continued weeks claimed reached 95,769 in May, the largest total since comparable data were collected beginning in 1997. The previous record high for one month in Wyoming was 80,239 in October 2010 during the state's economic downturn that began during the national Great Recession.
There were 25,409 unique continued claimants in May compared to 22,189 in April.
Published June 23, 2020.
---
Initial Claims
Continued Claims*
*Information displayed in Initial and Continued Claims are adjusted for monthly comparisons by normalizing the number of weeks in each month to a standard 4.33 weeks.
**NAICS = North American Industry Classification code.
***SIC = Standard Industrial Classification code.
---
Updated February 2020.
---
March 2020 | February 2020 | January 2020
December 2019 | November 2019 | October 2019 |
September 2019 | August 2019 | July 2019 |
June 2019 | May 2019 | April 2018 |
March 2019 | February 2019 | January 2019
December 2018 | November 2018 | October 2018 |
September 2018 | August 2018 | July 2018 |
June 2018 | May 2018 | April 2018 |
March 2018 | February 2018 | January 2018
December 2017 | November 2017 | October 2017 |
September 2017 | August 2017 | July 2017 |
June 2017 | May 2017 | April 2017 |
March 2017 | February 2017 | January 2017
December 2016 | November 2016 | October 2016 |
September 2016 | August 2016 | July 2016 |
June 2016 | May 2016 | April 2016 |
March 2016 | February 2016 | January 2016
---