Wyoming Unemployment Insurance Claims Statistics
---
Weekly Unemployment Insurance Claims for Wyoming
Weekly Unemployment Insurance Claims for Wyoming by County of Residence, Industry, and Selected Demographics, 2019-2022
Weekly UI Claims Data Table of Contents
Updated June 23, 2022, for the week ending June 18, 2022.
---
Current Monthly UI Claims Report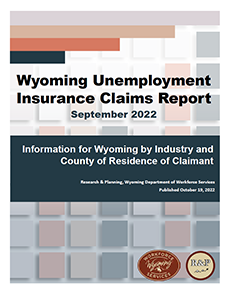 Wyoming Unemployment Insurance Claims Report, May 2022
Unemployment Insurance (UI) claims in Wyoming continued to decline from prior-year levels in May 2022. Initial and continued claims declined from year-ago levels by similar rates (-56.6% and -59.6%, respectively).

In May 2022, initial claims decreased from both prior-year and prior-month levels. There were 1,160 initial claims in May 2022, down from 2,675 in May 2021 (-1,515 or -56.6%) and 1,932 in April 2022 (-772, or -44.0%).
The 1,160 initial claims in May 2022 were lower than that 1,241 in May 2019 prior to the pandemic. Initial claims peaked in April 2020 at the start of the COVID-19 pandemic and have largely trended downward since.
The total number of continued weeks claimed decreased from 19,205 in May 2021 to 7,752 in May 2022 (-11,453, or -59.6%). The number of unique claimants decreased from 6,383 to 2,749 (-3,634, or -56.9%).
Continued claims for May 2022 were 11.8% lower than the 8,785 in May 2019.


Published June 16, 2022.
---
Monthly Tables and Figures

Initial Claims
Continued Claims*
*Information displayed in Initial and Continued Claims are adjusted for monthly comparisons by normalizing the number of weeks in each month to a standard 4.33 weeks.
**NAICS = North American Industry Classification code.
***SIC = Standard Industrial Classification code.
---
Annual Tables and Figures
Updated March 18, 2022.
---
NEW! Wyoming Unemployment Insurance Claims by Occupation
Unemployment Insurance Claims Data for Wyoming by Occupation, Educational Requirement, and Gender, 2019-2020
Published March 26, 2021.
---
Selected Articles from Wyoming Labor Force Trends and Other Publications
---
Previous Monthly UI Claims Reports
April 2022
March 2022 | February 2022 | January 2022 |
December 2021 | November 2021 | October 2021 |
September 2021 | August 2021 | July 2021 |
June 2021 | May 2021 | April 2021 |
March 2021 | February 2021 | January 2021
December 2020 | November 2020 | October 2020 |
September 2020 | August 2020 | July 2020 |
June 2020 | May 2020 | April 2020 |
March 2020 | February 2020 | January 2020
December 2019 | November 2019 | October 2019 |
September 2019 | August 2019 | July 2019 |
June 2019 | May 2019 | April 2018 |
March 2019 | February 2019 | January 2019
December 2018 | November 2018 | October 2018 |
September 2018 | August 2018 | July 2018 |
June 2018 | May 2018 | April 2018 |
March 2018 | February 2018 | January 2018
December 2017 | November 2017 | October 2017 |
September 2017 | August 2017 | July 2017 |
June 2017 | May 2017 | April 2017 |
March 2017 | February 2017 | January 2017
December 2016 | November 2016 | October 2016 |
September 2016 | August 2016 | July 2016 |
June 2016 | May 2016 | April 2016 |
March 2016 | February 2016 | January 2016
---