Wyoming Unemployment Insurance Claims Statistics
---
Monthly Tables and Figures

Initial Claims
Continued Claims*
*Information displayed in Initial and Continued Claims are adjusted for monthly comparisons by normalizing the number of weeks in each month to a standard 4.33 weeks.

**NAICS = North American Industry Classification code.

***SIC = Standard Industrial Classification code.
---
Annual Tables and Figures
---
Monthly UI Claims Reports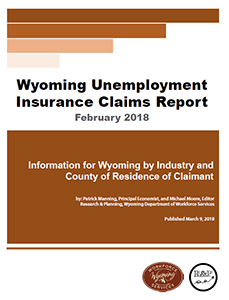 The total number of initial Unemployment Insurance (UI) claims in Wyoming was lower in Febraury 2018 than any other February during the last 10 years, according to new data released by the Research & Planning (R&P) section of the Wyoming Department of Workforce Services.

In February 2018, the total number of initial UI claims was 1,837, down from 2,527 in February 2017 (-690, or -27.3%).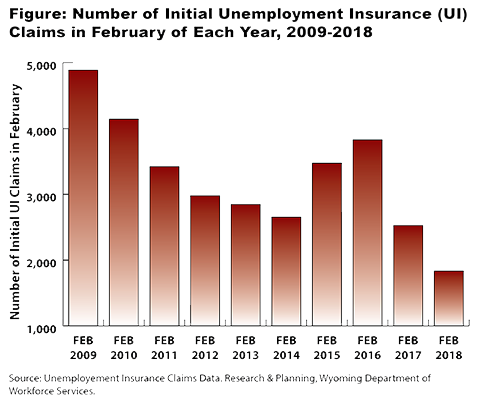 Published March 15, 2018.
Previous Reports
December 2017 | November 2017 (Revised) | October 2017 | September 2017 | August 2017 | July 2017 | June 2017 | May 2017 | April 2017 | March 2017 | February 2017 | January 2017
December 2016 | November 2016 | October 2016 | September 2016 | August 2016 | July 2016 | June 2016 | May 2016 | April 2016 | March 2016 | February 2016 | January 2016
---
Wyoming Labor Force Trends Articles