Wyoming Labor Force Trends
Wyoming Labor Force Trends is a monthly publication of the Wyoming Department of Workforce Services.
December 2020 | November 2020 | October 2020 | September 2020 |
August 2020 | July 2020 | June 2020 | May 2020 |
April 2020 | March 2020 | February 2020 | January 2020
---
NEW
Editor's note: Beginning with the December 2020 issue of Wyoming Labor Force Trends, each issue will be available online by the end of that month, in order to provide subscribers with the timeliest information possible. Barring any issues with printing or shipping, print copies will be delivered to subscribers by the following month.
In order to make these necessary changes, the October, November, and December issues of Trends will not be mailed to subscribers, but are all available electronically at https://doe.state.wy.us/LMI/trends.htm. The January 2021 issue of Trends will be the next issue mailed to subscribers.
If you have any questions, please contact Research & Planning Editor Michael Moore at (307) 473-3814 or Michael.Moore@wyo.gov.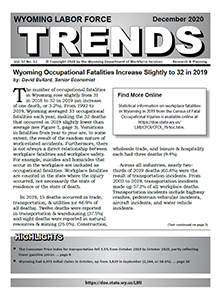 Wyoming Occupational Fatalities Increase Slightly to 32 in 2019
Wyoming Labor Force Trends Articles from 2020
Wyoming Unemployment Falls to 5.5% in October 2020
Current Employment Statistics (CES) Estimates and Research & Planning's Internal Estimates, October 2020
State Unemployment Rates (Seasonally Adjusted)
Wyoming Nonagricultural Wage and Salary Employment
State Unemployment Rates (Not Seasonally Adjusted)
Economic Indicators
Wyoming County Unemployment Rates
Wyoming Normalized Unemployment Insurance Statistics: Initial Claims
Wyoming Normalized Unemployment Insurance Statistics: Continued Claims
---
Back Issues
Click here for a detailed list of all articles and issues of Wyoming Labor Force Trends from 1993 to present.