Benefits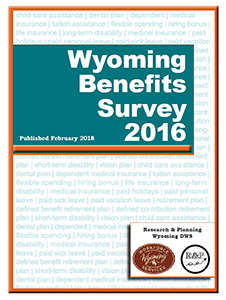 Wyoming Benefits Survey 2016
Wyoming Benefits Survey 2016
(PDF, 3.2 MB)
This publication examines the prevalence of employer-provided benefits such as health insurance, retirement plans, and paid leave in Wyoming during third quarter 2016. These benefits are analyzed in several ways: by full- and part-time employment status, employer size class, industry, and by Wyoming substate region.
Published February 2018.
---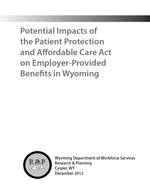 Affordable Care Act
Potential Impacts of the Patient Protection and Affordable Care Act on Employer-Provided Benefits in Wyoming
Using data from the Wyoming Benefits Survey and other state and federal data, in addition to previous research related to health care mandates in other states, this publication explores the PPACA's possible effects on employment in the state.
(The content of this publication appeared as an article in the September 2012 issue of Wyoming Labor Force Trends).
---
Related Articles and Research
---
Publications
---
Wages