Wyoming Labor Force Trends
July 2022 | Volume 59, No. 7
---
New from R&P: 2022 Wyoming Workforce Annual Report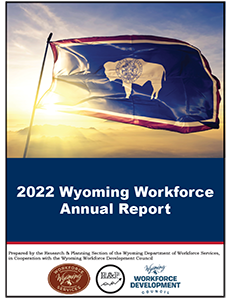 by: Michael Moore, Research Supervisor
The 2022 Wyoming Workforce Annual Report from the Research & Planning (R&P) section of the Wyoming Department of Workforce Services, in partnership with the Wyoming Workforce Development Council, provides a wealth of information on Wyoming's labor market. The new report is available by clicking here.
The report's authors looked at Wyoming's labor market in 2021 by using data from numerous sources, including the Quarterly Census of Employment and Wages (QCEW), Wyoming wage records, Local Area Unemployment Statistics (LAUS), Unemployment Insurance claims, and more.
The report illustrates how Wyoming's economy and labor market began to recover during the second half of 2021 after enduring unprecedented job losses due to declining energy prices and the COVID-19 pandemic in 2020 and early 2021. This article includes selected findings from the report.
Increases in Employment and Wages (Chapter 2)
Based on data from the Quarterly Census of Employment and Wages (QCEW), Wyoming saw over-the-year increases in employment and wages in each quarter after first quarter 2021 (2021Q1). Overall, Wyoming's average monthly employment increased by 4,631 jobs (1.8%) from 2020 to 2021, while total wages increased by $777.0 million (5.8%; see Table 1).
Most industries experienced job growth from 2020 to 2021 with the greatest increases seen in leisure & hospitality (3,499 more jobs, or an increase of 10.8%), professional & business services (1,265, or 6.9%), and retail trade (1,000, or 3.5%).
Data from the QCEW seem to indicate that surrounding states are recovering more quickly from economic disruptions from the COVID-19 pandemic than Wyoming. From 2020 to 2021, Wyoming's average rate of change for employment was 1.8%. Surrounding states with greater rates of change included Idaho (5.7%), Utah (5.3%), and Montana (5.0%). Only Nebraska (1.9%) had a rate of change comparable to Wyoming.
Decline in Unemployment Rate, Labor Force (Chapter 4)
Wyoming's average annual unemployment rate for 2021 was 4.5%, down from 5.8% in 2020, according to data from the Local Area Unemployment Statistics (LAUS) program.
The decline in Wyoming's unemployment rate has been associated with a large decrease in the labor force (the number of persons employed and unemployed; see Figure 1). Wyoming's labor force saw a steady decline from a high of 303,748 in 2012 to 292,781 in 2018. The labor force increased to 294,380 in 2019 before decreasing in 2020 and 2021. The labor force in 2020 was 290,404, the lowest since 2007.
Decrease in UI Benefit Recipients, Payments (Chapter 5)
A total of 20,536 unemployed workers received Wyoming Unemployment Insurance (UI) benefits in 2021, a decrease of 52.9% from the 43,630 recipients in 2020, which marked the highest level in the last 25 years.
The Wyoming Department of Workforce Services' UI division paid a total of $159.5 million in benefits to unemployed workers in 2021, which included $58.2 million from the state UI trust fund and $101.3 million from other UI funds and the federal CARES Act. Focusing just on the UI state trust fund, benefit expenses decreased from the historically high $173.5 million in 2020 to $58.2 million in 2021 (-$115.3 million, or -66.4%). The $58.2 million in benefit expenses was higher than pre-pandemic levels, but much closer to the $43.8 million in 2019 and the $42.4 million in 2018.
Record High Job Openings (Chapter 6)
Comparing unemployment from the LAUS program to job openings U.S. Bureau of Labor Statistics' Job Openings and Labor Turnover Survey (JOLTS) program suggests that employers in Wyoming may face considerable difficulty in filling open positions.
In January 2022, there were an estimated 22,000 job openings in Wyoming compared to 11,047 unemployed individuals — approximately two job openings for each unemployed person in the state.
A limited number of print copies of the 2022 Wyoming Workforce Annual Report are available. If you are interested in receiving one of these print copies, please contact R&P Research Supervisor Michael Moore at (307) 473-3814 or michael.moore@wyo.gov.