by: David Bullard, Senior Economist
tables by: Nancy Brennan, Senior Economist
Related Article Related Tables and Figures
Table 1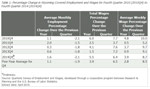 Total unemployment insurance (UI) covered payroll in Wyoming increased by $184.4 million (5.5%) in fourth quarter 2014. Employment rose by 4,426 jobs (1.6%) and average weekly wage increased by $36 (3.9%). In fourth quarter, employment (1.6% compared to 1.1%), total wages (5.5% compared to 3.9%), and average weekly wage (3.9% compared to 2.8%) all grew faster than their five year averages. However, job growth and payroll growth both slowed slightly from third to fourth quarter.
Despite the recent growth, overall employment remained approximately 2,350 jobs (0.8%) below its fourth quarter 2008 level. It appears that the state is getting close to making up all the job losses of 2009 and 2010.
---
---
See Article New Hires Survey Page
In 2014, Wyoming employers added an estimated 110,104 new hires, according to the most recent New Hires Survey Estimates from the Research & Planning section of the Wyoming Department of Workforce Services.
Of those 110,104 new hires, 83.5% were hired for jobs that required a high school diploma or less, 7.1% were hired for jobs that required a postsecondary non-degree award or some college, 2.0% were hired for jobs requiring an associate's degree, and 7.3% were hired for jobs requiring a bachelor's degree or higher.
---
See Article See Unemployment Insurance Claims
Figure 1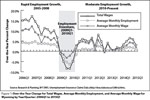 During the first half of 2015, Unemployment Insurance (UI) claims in Wyoming increased substantially from 2014 levels, especially in the mining industry. This increase was due in large part to the loss of jobs that resulted from lower oil and natural gas prices and the decline in the number of drilling rigs exploring for oil and natural gas (Liu, 2015).
UI claims are measured in terms of initial and continued claims. Initial claims represent persons who just lost their jobs and applied for UI benefits. According to Wen (2009), initial claims are the "best indicator of new layoffs, although some unemployed workers choose not to apply for UI benefits." This article focuses on continued claims, which are measured in the total number of weeks claimed, and a person may claim more than one week of benefits during a given period. In June 2015, for example, there were 6,431 unique claimants and 22,293 total continued weeks claimed in Wyoming.
---
by: Tony Glover, Workforce Information Supervisor
Wage Records Quarterly Update
The number of persons working in Wyoming and total wages continued to show moderate growth from previous year levels.
The number of new persons not previously found working in Wyoming decreased 2.9% from 2014Q1 levels. This was the third consecutive year in which the number of new persons declined from previous year levels during first quarter.
---
Related Article Statewide Turnover Natrona County Turnover
The Research & Planning (R&P) section of the Wyoming Department of Workforce Services publishes turnover data for Wyoming on a quarterly basis, both in Wyoming Labor Force Trends and online at http://doe.state.wy.us/LMI/turnover.htm. Turnover data at the industry level are available from second quarter 1992 (1992Q2) to fourth quarter 2014 (2014Q4) and are updated quarterly.
R&P also has the capability to produce turnover data at the county level. This is illustrated in this month's issue, which shows turnover by industry for Natrona County during 2014Q4.
R&P has the capability to produce tables of county-level turnover data based on customer demand. For some counties, some industry-level data may be non-discloseable due to a very small number of transactions. Tell us which county's turnover tables you would like to see published next.
---
U.S. and Wyoming Seasonally Adjusted Unemployment Rate

Wyoming's seasonally adjusted1 unemployment rate (4.1%) was unchanged from April to May. The state's unemployment rate was slightly lower than its May 2014 level of 4.3% and significantly lower than the current U.S. unemployment rate of 5.5%. Seasonally adjusted employment of Wyoming residents increased slightly, rising by an estimated 741 individuals (0.3%) from April to May. This level of over-the-month employment growth is a normal change.
From April to May, almost all county unemployment rates followed their normal seasonal pattern and decreased. Employment tends to increase in May, with warmer weather bringing seasonal job gains in leisure & hospitality, construction, government, retail trade, and professional & business services. The largest unemployment rate decreases occurred in Teton (down from 6.9% to 4.6%), Sublette (down from 5.3% to 4.3%), and Hot Springs (down from 4.5% to 3.5%) counties. Converse County's unemployment rate rose very slightly from 3.5% to 3.6%.