Read Article Tables and Figures
Total Number of Wyoming Hires Ages 18-20 by Gender and Year and Quarter, 1992Q1-2014Q1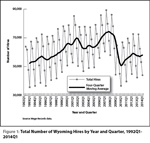 The migration of youth from Wyoming has long been a concern for educators, policymakers, and workforce development personnel. In 2012, the Research & Planning (R&P) section of the Wyoming Department of Workforce Services published a study titled, A Decade Later: Tracking Wyoming's Youth Into the Labor Force, which sought to answer the questions of where youth go when they leave the state and what industries they find work in after they leave. Findings of the study indicated that youth in Wyoming "appear to have difficulty finding jobs in industries that require a higher education, such as health care & social assistance, educational services, and public administration" (Glover, 2012). Other key findings of the study include the retention rate for 18-year-olds from each year from 1992 to 2006, which was 55.8%. Because the migration of youth is an issue affecting so many in the state, R&P analyzed the hiring patterns for 18- to 20-year-olds during the last decade.
This article examines the hiring rate for youth ages 18-20 in Wyoming, the total hires for all ages, and the industries in Wyoming with the most new hires over the last 10 years. This article is part of a series which will examine hiring patterns for youth and other workers in the state, and seek to answer the question of how different age groups interact with the labor market in Wyoming. The series will compare the long-term employment opportunities available to young people with other segments of the workforce.
---
Read Article Table and Figure See Market Pay Study
Percentage of Workers Age 55 and Older (2013) and Percentage of Workers with a Bachelor's Degree or Higher by Industry in Wyoming (2012)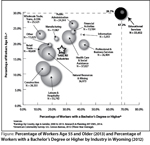 The Research & Planning (R&P) section of the Wyoming Department of Workforce Services recently released the Wyoming Community College Market Pay Study, after a request from Wyoming's community college presidents. The report focuses on wages earned by those working in community colleges in Wyoming, the history of compensation in Wyoming and the region, and labor market trends driving demand in the educational services industry.
Key findings of the report include:
Employment in Wyoming's community college system makes up nearly half (47.4%) of the total employment in higher education – more than twice that of any other border state.
Postsecondary education administrators in Utah were paid an estimated $90,990 in comparison to $79,350 in Wyoming.
Public schools in Wyoming tend to pay higher average wages than community colleges, and Colorado community colleges pay wages that are higher than both sectors in Wyoming.
Nearly one in three persons working in educational services in Wyoming is age 55 and over, and 67.2% of those workers hold a bachelor's degree or higher. The large number of workers approaching retirement age may represent a recruitment cost for community colleges in Wyoming.
Employment growth in all industries was stronger in Colorado, Utah, and Idaho than in Wyoming in third quarter 2013. Strong employment growth and occupational diversity in bordering states may attract labor, including teachers.
The report also makes recommendations for further research, including responding to gaps in the data, many of which can be addressed through implementing a standardized approach to data collection. Research & Planning will meet later this month with human resources directors from Wyoming's community colleges to discuss the implementation of standardized data collection and the possibilities for further market pay analysis.
The complete Wyoming Community College Market Pay Study can be found online here.
---
U.S. and Wyoming Seasonally Adjusted Unemployment Rate

The Research & Planning section of the Wyoming Department of Workforce Services reported that the state's seasonally adjusted unemployment rate fell significantly from 4.2% in December 2014 to 4.0% in January 2015 (the estimated number of unemployed individuals decreased by 578). Wyoming's unemployment rate was lower than its January 2014 level of 4.3% and significantly lower than the January 2015 U.S. unemployment rate of 5.7%. Seasonally adjusted employment of Wyoming residents increased very slightly, rising by an estimated 340 individuals (0.1%) from December to January.

---