Personal Income for the U.S., Wyoming, and Selected Counties, 2012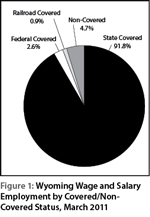 Total unemployment insurance (UI) covered payroll increased by $97.3 million (3.2%) in first quarter 2014. Employment rose by 3,062 jobs (1.1%) and average weekly wage increased by $18 (2.1%). In first quarter, employment grew faster than its five year average (1.1% compared to 0.1%), total wages grew faster than their five-year average (3.2% compared to 2.6%), but average weekly wage grew just slower than its five-year average (2.1% compared to 2.4%). After losing jobs for six consecutive quarters, the mining sector (including oil & gas) gained 366 jobs (1.4%) in first quarter.
Despite the recent growth, overall employment remained approximately 2,250 jobs (0.1%) below its first quarter 2008 level. In short, the state has yet to make up all the job losses of 2009 and 2010.