The Recent Labor Market Downturn
as a Natural Experiment, Part 2:

The Effects of Labor Market Conditions and Employer
Re-Hiring Practices on Repeat Use of the Unemployment Insurance (UI) System
Unemployment Insurance Claimants in Wyoming Who Will Become Repeat Claimants by Gender, 2005Q1 to 2012Q4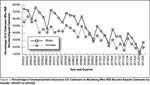 Collecting Unemployment Insurance (UI) may create a stigma and contribute to human capital decay, increasing the likelihood of claimants falling into a sector of the labor market where repeat use of the UI system is common. Using UI claimant data from 2005 to 2012, we found that during the recent economic downturn, the rate of repeat use of the UI system decreased due to an increase in the number of individuals who would normally not apply for benefits. We also found evidence that employers may change their hiring and re-hiring practices depending upon the local unemployment rate. Further, nearly 86.0% of repeat claimants who return to the same employer see no increase in wages upon re-employment. Implications for workforce agencies to concentrate their efforts are discussed.
---
---
by: Nancy Brennan, Senior Economist
Technology-related industry employment remained consistent at 1.8% with regard to Wyoming's overall employment from 2003 to 2013.
---
Recent media coverage of the construction industry suggests a shortage of workers, especially subcontractors, in the Rocky Mountain and High Plains region. The Research & Planning (R&P) section of the Wyoming Department of Workforce Services recently published the results of a new study on the issues surrounding occupational shortages.
R&P found that although there is no established labor shortage for the U.S. labor market as a whole, there may be shortages in particular sectors.
---
U.S. and Wyoming Seasonally Adjusted Unemployment Rate

The state's seasonally adjusted unemployment rate held steady from September to October at 4.7%. Wyoming's unemployment rate was up slightly from its October 2013 level of 4.5%, but significantly lower than the current U.S. unemployment rate of 5.8%. Seasonally adjusted employment of Wyoming residents increased slightly, rising by an estimated 394 individuals (0.1%) from September to October.
Teton and Lincoln counties had the highest unemployment rates in October (both 5.2%). They were followed by Fremont (5.1%) and Big Horn (4.8%) counties. The lowest unemployment rates were found in Converse (3.0%), Campbell (3.1%), Sublette (3.2%), and Niobrara (3.2%) counties.
Total nonfarm employment (measured by place of work) rose from 294,700 in October 2013 to 299,400 in October 2014, a gain of 4,700 jobs (1.6%).
---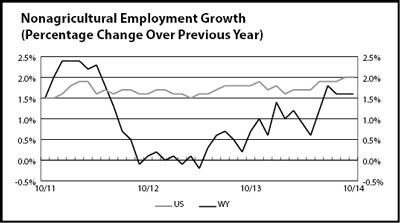 ---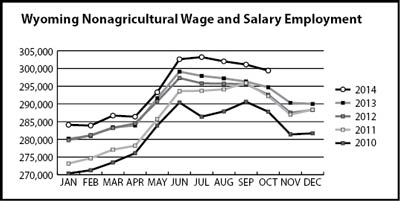 ---