Total Number of Residents (by Gender) and Nonresidents Employed at Any Time in Wyoming, 2000 and 2012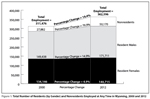 Wyoming employers have historically relied upon resident youths and nonresident workers to some degree, often to fill low-paying, seasonal jobs. Since 2000, the number of employed resident youths has decreased, and the number of employed nonresidents has increased. Are nonresidents displacing resident youths in Wyoming's workforce, or are Wyoming employers turning to nonresidents after exhausting the supply of resident youths? What potential consequences do these trends bring? This three-part series of articles addresses those questions by presenting definitions of resident youth workers and nonresident workers and examining the changing roles of those segments of the workforce.
Related Tables and Figures

Continue Reading →
---
Also inside June Trends:
Wyoming Mass Layoff Statistics (MLS) Events, Associated Initial Unemployment Insurance (UI) Claims, and Extended Mass Layoff Events, 2001-2012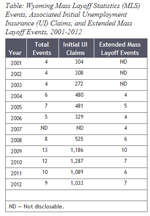 The number of mass layoffs in Wyoming fell from 10 in 2011 to nine in 2012 (see Table). Mass layoffs have decreased for the past three years after peaking at 13 in 2009. This downward trend in mass layoffs is consistent with Wyoming's falling unemployment rate, which peaked at 7.0% in 2010 and has been steadily decreasing since then. Despite the recent decreases, the number of mass layoffs remains higher than before the recession.

Continue Reading →
As part of the federal automatic budget cuts known as sequestration, the U.S. Bureau of Labor Statistics (BLS) was required to cut its budget by more than $30 million. In order to absorb part of this budget cut, one of the programs the BLS eliminated was Mass Layoff Statistics (MLS). As of June 30, MLS data are no longer collected, analyzed, or published for Wyoming or the United States.
---
The Research & Planning section of the Wyoming Department of Workforce Services has reported that the state's seasonally adjusteda unemployment fell from 4.9% in March to 4.8% in April. Wyoming's unemployment rate remained significantly lower than the U.S. rate of 7.5%. Seasonally adjusted employment of Wyoming residents decreased slightly, falling by 218 individuals (-0.1%) from March to April.

Continue Reading →

---