Wyoming Wage & Salary Employment by Covered/Non-Covered Status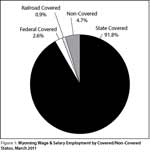 Total unemployment insurance (UI) covered payroll increased by $196.9 million (6.3%) in third quarter 2014. Employment rose by 5,219 jobs (1.8%) and average weekly wage increased by $37 (4.4%). In third quarter, employment (1.8% compared to 0.9%), total wages (6.3% compared to 4.0%), and average weekly wage (4.4% compared to 3.0%) all grew faster than their five year averages. Nearly half (2,401, or 46.0%) of the jobs added in third quarter were in the construction sector. In terms of dollars, UI covered payroll represents approximately 91.5% of all wage and salary disbursements and 43.8% of personal income in the state. Analysts have noted that "minerals related employment is one of the key predictors of sales and use tax revenue" in Wyoming.
Despite the recent growth, overall employment remained approximately 2,950 jobs (1.0%) below its third quarter 2008 level. It appears that the state is getting close to making up all the job losses of 2009 and 2010.
Read Article Tables and Figures
---
---
What is the potential that Wyoming's unemployment rate could be affected by job losses in other states as a result of the recent decline in oil prices? The Local Area Unemployment Statistics (LAUS) program counts people as unemployed by place of residence. In some cases people may work in one state but live in another. For example, someone residing in Wyoming may work for an employer in Colorado. If she loses her job, she would be counted as unemployed in Wyoming even though the job was lost in Colorado. One of the important inputs in developing estimates of the number of unemployed is the statistical use of administrative data from the Unemployment Insurance (UI) program.
---
by: Tony Glover, Workforce Information Supervisor
Wage Records Quarterly Update

| | | | |
| --- | --- | --- | --- |
| | | | |
The mean quarterly wage for persons working one job in Wyoming increased from $10,787 in 2013Q1 to $11,150 in 2014Q1, an increase of 3.4%. Mean quarterly wages also increased from previous year levels for all others holding two or more jobs.
---
---
U.S. and Wyoming Seasonally Adjusted Unemployment Rate

Wyoming's seasonally adjusted unemployment rate held steady at 4.0% from January to February. Wyoming's unemployment rate was slightly lower than its February 2014 level of 4.3% and significantly lower than the current U.S. unemployment rate of 5.5%. Seasonally adjusted employment of Wyoming residents was practically unchanged from January to February, rising by an estimated 80 individuals (0.0%). Wyoming's labor force (the sum of employed and unemployed individuals) fell by 1,034 people (-0.3%) from a year earlier.

---