© Copyright 2002 by the Wyoming Department of Employment, Research & Planning

Continued Unemployment Insurance Claims by
Major Industry, July 2002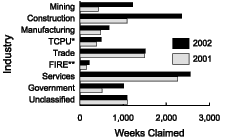 * Finance, Insurance, & Real Estate.
** Transportation, Communications, & Public Utilities.


Continued Claims | Table of Contents | Labor Market Information | Wyoming Job Network | Send Us Mail
These pages designed by Julie Barnish.
Last modified on by Susan Murray.