© Copyright 2001 by the Wyoming Department of Employment, Research & Planning

Figure 1: Average Annual Pay per Job and Household Income by State, 1999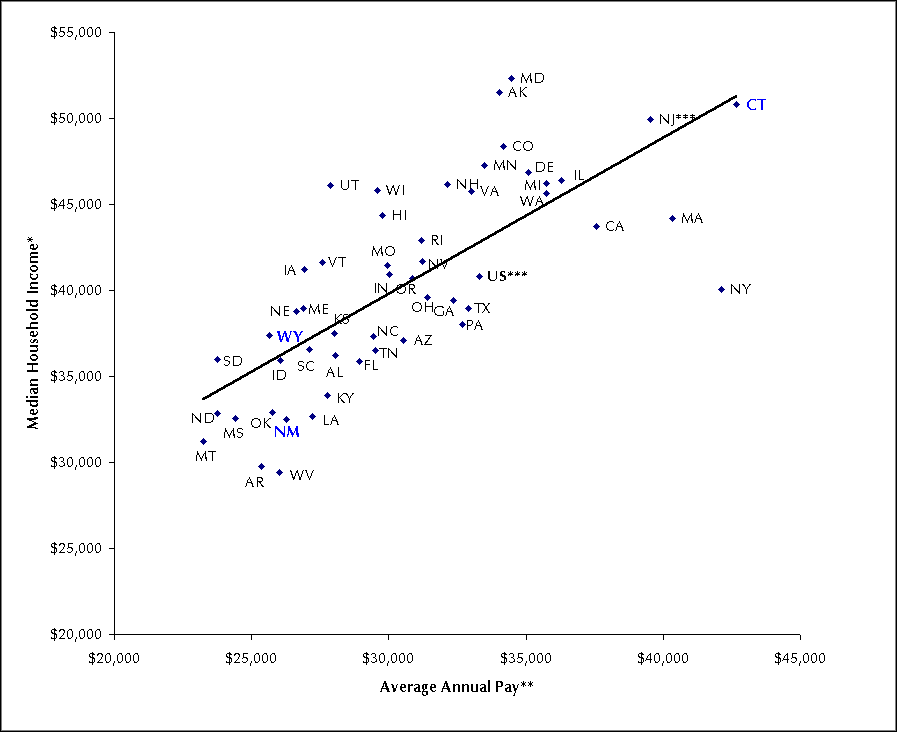 * Source: U.S. Census Bureau, Historic Income Tables - Households, Table H-8, Median Household Income by State: 1984 to 1999, http://www.census.gov/hhes/income/histinc/h08.html (November 30, 2000).
** Source: Bureau of Labor Statistics, Average Annual Pay by State and Industry, Table 2, November 17, 2000, http://www.bls.gov/news.release/annpay.nr0.htm (November 28, 2000).
*** New Jersey data were not available for fourth quarter of 1999. Totals for the United States were calculated using estimated data for New Jersey. For estimating purposes, it was assumed that the 1999 annual average pay for New Jersey was the same as 1998.

Return to Article | Table of Contents | Labor Market Information | Wyoming Job Network | Send Us Mail
These pages designed by Gayle C. Edlin.
Last modified on by Valerie A. Davis.