© Copyright 2006 by the Wyoming Department of Employment, Research & Planning
WYOMING LABOR FORCE TRENDS
Vol. 43 No. 3
Wyoming Occupational Fatalities Reach Record Level in 2004
Wyoming occupational fatalities reached a record high in 2004 with 43 work-related deaths. The number is the highest for Wyoming since the Census of Fatal Occupational Injuries (CFOI) program began tracking work-related deaths in 1993 (see Figure 1). Additionally, the state's fatality rate per 100,000 workers reached a 5-year high of 15.5 (see Figure 2).
Men constituted 38 of the fatalities (88.4%), while 5 women died on the job (11.6%; see Table 1). Deaths of men increased by five over 2003, while women's deaths increased by one. By age group, individuals age 45-54 were the most frequent victims with 11 fatalities (25.6%). The largest increase in fatalities occurred among workers age 55 to 64. Fatalities for this age group doubled from four in 2003 to eight in 2004.
Transportation incidents dominated all other event types with 28 deaths (65.1%; see Table 2). In particular, highway incidents continued to be the most common, contributing 58.1% of all fatalities (25 deaths). Five more highway deaths were recorded in 2004 than in 2003. Deaths attributable to highway incidents in 2004 were the highest since the CFOI program began monitoring Wyoming occupational fatalities (see Table 3).
Construction & extraction and transportation & material moving occupations accounted for the majority of deaths by occupational category with 13 each or a combined 60.5% of all work-related deaths in 2004 (down from 64.9% in 2003). The remaining 17 fatalities in 2004 occurred in a variety of other occupations.
By industry, Trade, Transportation, & Utilities reported the highest number of deaths (16 or 37.2%) and the largest increase from the previous year (up by 6; see Table 4). The number of deaths in both Agriculture, Forestry, Fishing & Hunting and Mining held steady from 2003 to 2004 (three and eight deaths, respectively, in each year). Deaths in Construction rose from five in 2003 to six in 2004, while deaths in Public Administration grew from two in 2003 to five in 2004.
Through the Wyoming Department of Employment's Occupational Safety and Health programs, the state works directly to reduce threats to workers' lives. The state also acts indirectly to improve worker safety by reduced tax rate incentives (up to 10% of the base rate) in the Workers' Compensation program for employers who strive for and maintain safe work environments (Wyoming Department of Employment, Workers' Safety & Compensation Division, Occupational Safety & Health, n.d.). Given the frequency with which workers die on Wyoming's roads and highways, improved safety (especially the importance of wearing seatbelts) should not be dismissed. Regardless of work location, occupational safety is ultimately a joint responsibility of employers and employees. For additional Wyoming-specific CFOI information, go to Research & Planning's website at http://doe.state.wy.us/LMI/CFOI/toc.htm.
References
Wyoming Department of Employment, Workers' Safety & Compensation Division, Occupational Safety & Health. (n.d.). Safety Discount Program. Retrieved August 19, 2005, from http://wydoe.state.wy.us/doe.asp?ID=243
Return to text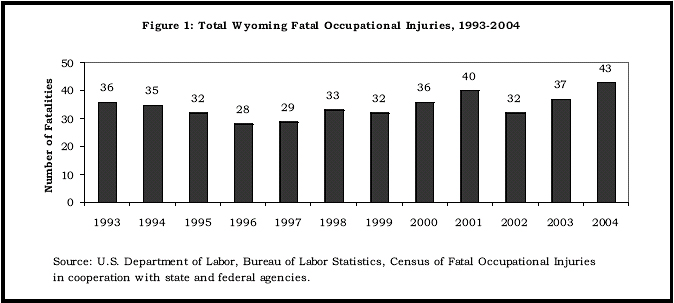 Return to text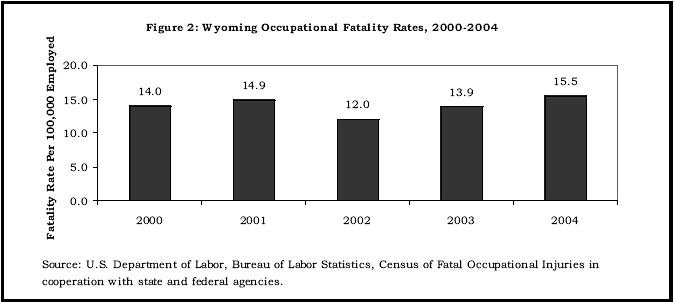 Return to text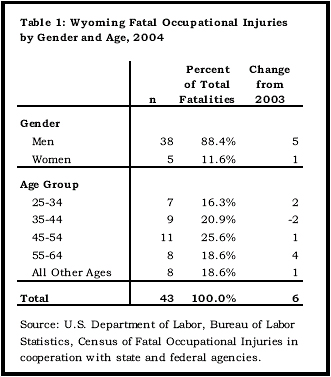 Return to text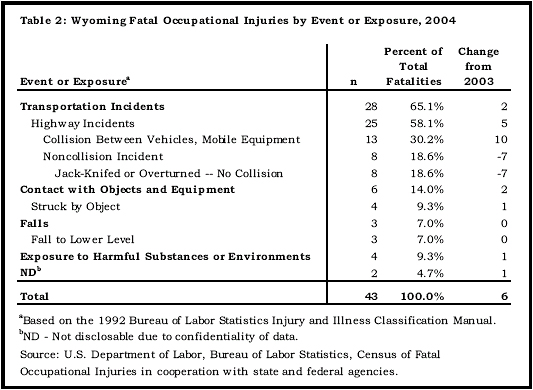 Return to text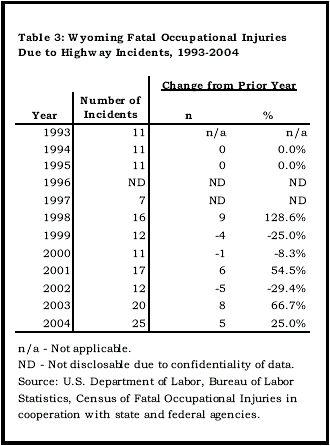 Return to text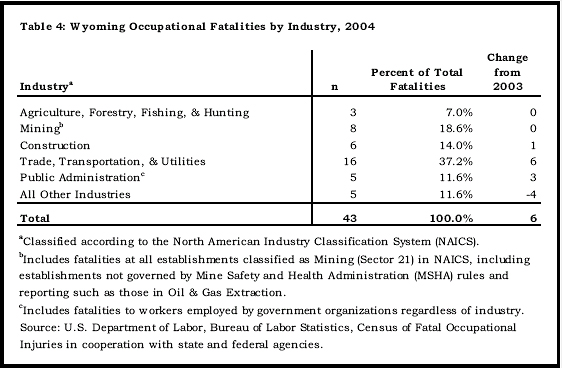 Table of Contents | Labor Market Information | Wyoming Job Network | Send Us Mail
These pages designed by Julie Barnish.
Last modified on by Phil Ellsworth.