Wyoming Unemployment Insurance Claims Statistics
---
Weekly Unemployment Insurance Claims for Wyoming
Weekly Unemployment Insurance Claims for Wyoming by County of Residence, Industry, and Selected Demographics, 2019-2022
Weekly UI Claims Data Table of Contents
Updated January 13, 2022, for the week ending January 8, 2022.
---
Current Monthly UI Claims Report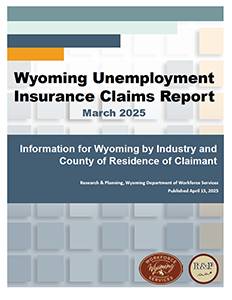 Construction Leads All Industries in Initial, Continued Claims
Initial and continued Unemployment Insurance (UI) claims in Wyoming continued to decline from prior-year levels in December 2021. In addition, both initial and continued claims were noticeably lower than pre-pandemic levels from December 2019.
Initial and continued claims followed their normal seasonal trends and increased from November to December.

December 2021 marked the ninth consecutive month of over-the-year decreases in initial UI claims in Wyoming. There were 2,476 initial claims in December 2021, down 47.8% from December 2020.

All industries showed over-the-year decreases in initial claims. The industries with the largest number of initial claims included construction, unclassified , trade, transportation, & utilities, and professional & business services.
Continued claims declined from prior-year levels for the eighth consecutive month in December. The 32,057 total continued weeks claimed in December 2021 marked a 67.3% decrease from the prior year.
The 2,124 total weeks claimed by out-of-state claimants accounted for approximately one in five (20.2%) total weeks claimed.


December 2021 UI Claims Report
Published January 19, 2022.
---
Monthly Tables and Figures

Initial Claims
Continued Claims*
*Information displayed in Initial and Continued Claims are adjusted for monthly comparisons by normalizing the number of weeks in each month to a standard 4.33 weeks.
**NAICS = North American Industry Classification code.
***SIC = Standard Industrial Classification code.
---
Annual Tables and Figures
Related article: UI Benefit Recipients, Payments Reach Historic High in 2020
Updated May 18, 2021.
---
NEW! Wyoming Unemployment Insurance Claims by Occupation
Unemployment Insurance Claims Data for Wyoming by Occupation, Educational Requirement, and Gender, 2019-2020
Published March 26, 2021.
---
Selected Articles from Wyoming Labor Force Trends and Other Publications
---
Previous Monthly UI Claims Reports
December 2021 | November 2021 | October 2021 |
September 2021 | August 2021 | July 2021 |
June 2021 | May 2021 | April 2021 |
March 2021 | February 2021 | January 2021
December 2020 | November 2020 | October 2020 |
September 2020 | August 2020 | July 2020 |
June 2020 | May 2020 | April 2020 |
March 2020 | February 2020 | January 2020
December 2019 | November 2019 | October 2019 |
September 2019 | August 2019 | July 2019 |
June 2019 | May 2019 | April 2018 |
March 2019 | February 2019 | January 2019
December 2018 | November 2018 | October 2018 |
September 2018 | August 2018 | July 2018 |
June 2018 | May 2018 | April 2018 |
March 2018 | February 2018 | January 2018
December 2017 | November 2017 | October 2017 |
September 2017 | August 2017 | July 2017 |
June 2017 | May 2017 | April 2017 |
March 2017 | February 2017 | January 2017
December 2016 | November 2016 | October 2016 |
September 2016 | August 2016 | July 2016 |
June 2016 | May 2016 | April 2016 |
March 2016 | February 2016 | January 2016
---