Wyoming Unemployment Insurance Claims Statistics
---
Monthly Tables and Figures

Initial Claims
Continued Claims*
*Information displayed in Initial and Continued Claims are adjusted for monthly comparisons by normalizing the number of weeks in each month to a standard 4.33 weeks.

**NAICS = North American Industry Classification code.

***SIC = Standard Industrial Classification code.
---
Annual Tables and Figures
---
Monthly UI Claims Reports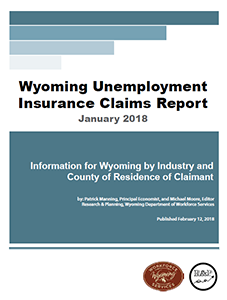 The total number of initial Unemployment Insurance (UI) claims in Wyoming continued to decline in January 2018, down 27.4% (-1,044 claims) from January 2017. The number of initial claims has decreased from prior-year levels every month since September 2016.

Over the year, the number of unique claimants with continued claims decreased by 40.9% (-3,506 individuals). Total continued weeks claimed decreased by 31.2% (-9,045 weeks). The number of workers exhausting their UI benefits declined by 43.1% (-211 individuals).
Published February 12, 2018.
Previous Reports
December 2017 | November 2017 (Revised) | October 2017 | September 2017 | August 2017 | July 2017 | June 2017 | May 2017 | April 2017 | March 2017 | February 2017 | January 2017
December 2016 | November 2016 | October 2016 | September 2016 | August 2016 | July 2016 | June 2016 | May 2016 | April 2016 | March 2016 | February 2016 | January 2016
---
Wyoming Labor Force Trends Articles