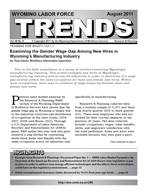 Legislation and Regulatory Landscape Regarding Energy Efficient Technologies: Impacts on the Regulatory Environment
Occasional Paper No. 5
ARRA Labor Market Dynamics An Overview of the American Recovery and Reinvestment Act of 2009 as it Pertains to the Wyoming Department of Employment Research & Planning Section and the Rocky Mountain and Northern Plains Consortium
The full document is available online here.
Definition(s) of "Green" Jobs
A Review of Alternative Energy and Environmental Enhancement Technologies (Excerpted in June 2011 Trends)
State Level Legislation Regarding Energy-Efficient Technologies

Chapter 4.

Legislation and Regulatory Landscape Regarding EE Technologies
Results of the Baseline Survey (Article in February 2011 Trends)
A Summary of the New Hires Survey (Article in February 2011 Trends)
Text Mining Analysis of the New Hires Survey
Wyoming IMPLAN Analysis of ARRA Spending (Article in October 2010 Trends)
by: Sylvia Jones, Senior Research Analyst,
November 2010
The development of any of the previously discussed technologies and industries (Chapter 2), along with the legislation required to administer it (Chapter 3) will have a direct impact on the regulatory landscape. In Wyoming, the agency most affected by these changes is the Department of Environmental Quality (DEQ). In fact, several legislative measures that have been approved in Wyoming specifically include funding for reclassification and/or addition of positions to accomplish the regulatory tasks necessary. For example, from the 2010 legislative session, the act titled, "Carbon Sequestration-Financial Assurances and Regulation" authorizes the DEQ to reclassify a vacant computer technology support position to a principal accountant position "to assist the department in fulfilling its rulemaking duties relating to financial assurances pursuant to this act" (Ch. 52, p. 245).
The Research & Planning (R&P) section of the Wyoming Department of Workforce Services conducted interviews with employees of the DEQ starting in September 2010 to gather information regarding changes they know will or perceive may happen due to the introduction (or expansion) of these new industries and technologies. Other states in the consortium also conducted interviews with their respective regulatory agencies. By doing so, R&P hopes to be able to better project employment based on regulatory change rather than relying solely on what happened during the past. We recognize that what we currently know about any particular industry may become obsolete very quickly because of rapid change in regulation, change in monitoring technology, and the introduction of new "green" technologies.
Background Information on DEQ
The Wyoming Department of Environmental Quality's mission statement is: "To protect, conserve and enhance the quality of Wyoming's environment for the benefit of current and future generations." In general, the agency employs 268 individuals who collectively work to minimize environmental pollution while enabling responsible economic development within the state. There are six departments within DEQ, irrespective of administration, each charged with a separate specialty of oversight. They include: Air Quality, Water Quality, Land Quality, Industrial Siting, Solid Waste Management, and Abandoned Mine Reclamation. As a whole, DEQ serves approximately 5,000 businesses annually, approximately 20% of all business in Wyoming (Brennan, 2010) and over 30,000 individual facilities throughout the state. The department operated with a budget last biennium (2008-2010) of $140 million, of which $39 million came from the General Fund.
Air Quality
The purpose of the Air Quality program is to protect the public health and welfare from the harmful effects of air pollution. It works to ensure compliance with state and national ambient air quality standards and compliance with other requirements of the federal Clean Air Act in an effort to conserve and enhance the air resources of the state for public, agricultural, industrial, recreational, and other beneficial uses. Major program activities include:
Conducts permit reviews for all new emission sources or modifications of existing emission sources, to ensure that the source is built with Best Available Control Technology (BACT) to limit emissions to the lowest technically and economically achievable level to minimize impact to Wyoming's air resource.
Implements Wyoming's operating permit program, mandated by the Clean Air Act Amendments of 1990, to permit continued operation of major emission sources through development of state and federally enforceable permits that incorporate all state and federal regulatory requirements. These permits are issued for a term of five years and must be renewed and updated to incorporate current regulatory requirements.
Ensures that permittees construct and operate their facilities in accordance with the requirements of their permits and all other applicable regulations through file reviews and on-site inspections. This activity is also involved in the resolution of issues related to citizen concerns about proper operation of those facilities.
Maintains an inventory of actual and allowable air emissions from all air pollution sources in the state (used in air modeling for major permits), installing and operating ambient air quality monitoring systems to evaluate the quality of Wyoming's ambient air (that to which the general public is exposed), and working with federal land managers, industry and others to develop strategies to mitigate air pollution impacts from new and expanded energy projects.
The workload of the Air Quality Division has increased during recent years despite the recent economic downturn and is expected to continue to increase throughout the foreseeable future. Permit issuance is likely to increase due to natural gas facility development, and because most permits are issued for only five years at a time. At the end of the five-year period, permittees are required to reapply for permits and are required to address any new compliance monitoring requirements currently in place.
The Air Quality Division's compliance workload is expected to increase similarly. At the end of Fiscal Year 2009 there were more than 22,000 sources of air pollution in the state, many of which were subject to periodic testing and reporting of emission totals and other requirements. This process includes more than 300 physical inspections per year.
The division's planning workload is also expected to increase as large energy projects continue to be proposed. For example, Las Vegas-based American Renewable Energy Associates has proposed a power plant to be built in Wheatland that would run on a combination of garbage from area communities as well as agricultural wastes (Lacock, 2010). The plant is slated to begin construction sometime during 2011 and is expected to start accepting trash and agricultural waste by August. While the company claims the process is "a totally enclosed, clean process," the Air Quality Division will be involved throughout the project. It will provide oversight in the form of air emissions testing to ensure that the burning process does not pollute the ambient air.
In addition to the division's standard practice, it is also required to address unique air quality issues as they arise. For example, the Upper Green River Basin has elevated wintertime ambient ozone levels. The Air Quality Division is working to develop strategies to solve the problem and meet Clean Air Act requirements.
Furthermore, the Division is involved, in coordination with the Department of Transportation, with metropolitan planning organizations in an effort to establish transportation improvement plans (DEQ, 2010). The plans are aimed at increasing the efficiency of transportation routes so as to decrease the resulting air pollution.
Water Quality
The purpose of the Water Quality program is to protect and restore the quality of Wyoming's surface water and groundwater resources so that they are available for existing and potential designated uses. It works to prevent water pollution in compliance with the Clean Water Act. It also helps fund the Groundwater Pollution Control Program and the Underground Injection Control program under the Safe Drinking Water Act.
The Division of Water Quality is able to attain these goals by engaging in the following activities:
Permitting discharges and enforcement activities are the primary mechanisms for protecting surface and groundwater from pollution.
Permitting the construction of public water distribution systems and treatment plants, and wastewater collection systems and treatment plants protect the public health and safety and the environment.
Operator certification assures the technical competence of operators of public water supply systems and municipal wastewater systems.
The Community Support Branch provides assistance to owners and operators of public water supply systems with an evaluation of their ability to meet the technical, managerial, and financial requirements of these systems. This section also manages the State Revolving Fund programs for the construction and upgrading of sewer and water systems.
Subdivision application reviews result in recommendations to County Commissioners as to the safety and adequacy of proposed sewer and water systems for subdivisions.
The Non-Point Source Program provides matching grants to individuals, organizations, and local and state government agencies for education, technical assistance, and voluntary implementation of management practices to prevent and reduce water impacts from non-point sources of pollution.
The Water Quality Laboratory provides analytical support to the surface and groundwater permitting and enforcement programs and to the watershed ambient water quality monitoring program.
In 2010, the State of Wyoming started requiring drillers to list the ingredients of hydraulic fracturing fluids with their drill permit applications (Farquhar, 2010). Hydraulic fracturing, also known as fracking, is a technique used by the oil and gas industry, to either enhance or initiate the flow of oil and gas from rock formations. Using a combination of water, silica sand and chemicals, fracking fluid is pumped under high pressure into rock formations, causing the rock to fracture. The fractures are kept open with the particles of silica and sand, allowing oil and gas to emerge from tight, rock-like sandstone and shale. Some companies want to keep the specific ingredients a proprietary secret; however, because of the potential for the fracking fluids leaching into groundwater, the ingredients are required to be given to the Division of Water Quality.
The division is also involved in the new water reclamation facility in Wyoming's Red Desert. The facility aims to make water produced from oil and gas drilling reusable (Casper Star-Tribune, 2010). The plant plans to accept and treat about 20,000 barrels of produced water daily, from oil and gas operators within a 100-mile radius of the facility. Company officials said the reclamation plant will render the water clean enough for agricultural use. The process involves the use of chemical-free, low-cost technology to clean large quantities of produced water to meet Environmental Protection Agency and Wyoming Department of Environmental Quality regulatory standards. Officials said the company plans to add additional facilities in Wyoming over the next 18 months. This places an additional burden on the Division of Water Quality to monitor the plans for the new facilities as well as monitor the output of the facilities for compliance.
The Water Quality Division also is inherently involved in carbon sequestration legislation. Wyoming leadership has recognized the potential of carbon sequestration to continue the state's dominance of carbon based resources (Carbon Sequestration Working Group, 2009). The workgroup appointed to investigate the feasibility of carbon sequestration in the state identified four phases: site characterization and permitting; operations including injection, monitoring and closure tasks; post-closure including monitoring until plume stabilization is confirmed; and long-term stewardship after bond release and permit termination, where the sequestration site still requires periodic monitoring to confirm it remains stable over an indefinite period of time. Because one of the key risks associated with the technology is contamination of underground sources of water, the Water Quality Division is required in the oversight process. Together with the Oil and Gas Conservation Commission, the division regulates all carbon sequestration projects in the state.
Land Quality
The purpose of the Division of Land Quality is to ensure that mining and exploration for solid minerals is conducted in a manner that protects the public and the environment from harmful impacts. The program also ensures the land after mining is reclaimed to a condition that is equal to or better than it was prior to mining. The major program activities are as follows:
Issue permits for mining and exploration including reclamation, monitoring, and bonding to ensure reclamation of the mine in the event of operator failure.
Inspect all mining activities in the state to ensure compliance with the regulations and permit standards and to assist operators in achieving compliance.
Solid and Hazardous Waste
This division regulates the storage, treatment, and disposal of municipal solid and hazardous waste to ensure that the activities cause no harm to people or the environment. In addition, the division operates both voluntary and non-voluntary remediation programs to oversee the cleanup of contaminated sites to ensure that future uses do not expose people to toxic conditions and to ensure that any harm to the environment is mitigated. The division also administers a program to regulate petroleum product or hazardous substance storage tanks. It also works to remediate these sites at the state's expense should the facilities experience a release of a regulated substance.
Abandoned Mine Reclamation
The purpose of the Abandoned Mine Land program is to eliminate health and safety hazards associated with abandoned mines and to mitigate impacts from coal and mineral mining through construction contracts for the reclamation of abandoned mine sites. To date, the program has reclaimed or contracted for reclamation over 900 abandoned mine sites, to include a total of more than 35,000 acres. More than 1,400 property owners, including several federal land management agencies, have benefited from the reclamation activities. In addition, the program has provided financial assistance to many mining-impacted Wyoming communities to mitigate health and safety concerns and to 35 different research projects aimed at improving the efficacy and efficiency of mine lands reclamation efforts.
Results from the Interview Process
Identify and Quantify Skill and Competency Requirements
In addition to gaining knowledge of the DEQ's role in the regulatory environment, another objective of this research was to elicit responses from DEQ managers regarding the educational requirements, skills, and training necessary for workers in the regulatory environment. In general, the managers felt that finding applicants with the necessary educational requirements was not difficult; finding educated applicants with experience was far more challenging. In terms of necessary occupations, engineering was by far the most commonly mentioned. Some divisions felt strongly that the professional engineer certification was important for success while others felt it was of little importance. Geologists and groundwater scientists (e.g. groundwater hydrologist, groundwater modeler, and hydro chemist) were also mentioned frequently. Other disciplines mentioned include:
Natural sciences: biology, botany, chemistry, soil science, wildlife management, etc.
Social Sciences: specifically statistics and archaeology
Technical occupations: service technicians, wastewater plant operators, landfill operators.
In terms of the skills necessary for successful employment, all those interviewed mentioned oral and written communication as necessary skills. Grant writing and contract writing were two specific forms of writing mentioned. Other than speaking and writing, other basic skills cited by DEQ managers included "reading comprehension," "critical thinking," "mathematics," "monitoring," and "science." "Reading comprehension," "critical thinking," "mathematics," and "science" were mentioned specifically by name while "monitoring" was inferred from activities such as "comparing what you see to a checklist of what you should see." Time management and project management were two resource management skills mentioned specifically. Social skills such as coordination, instructing, negotiation, persuasion, service orientation, and social perceptiveness were mentioned by interviewees as important either directly or indirectly.
Establish a Listing of Renewable Energy Businesses and Related Employment
Based on DEQ rules and interviews, a list of regulated industries has been compiled. The list classified by North American Industrial Classification System (NAICS) code is available online.
Anticipate Industry Growth
Industry projections for labor market use are typically produced using a base period of time (typically 10 years) to establish a trend line. They are useful for estimating employment change in a static environment but are less useful during times of dramatic economic change. They are unable, for instance, to predict significant economic downturns, or conversely, major regulatory changes that would increase employment requirements. Long-term industry and occupational projections are produced every two years by R&P and posted on R&P's Projections web page.
Information that affects industry employment projections includes an increased or decreased demand for the industry's product or service, a change in governmental involvement (regulation), and turnover. Traditional projections attempt to estimate changing demand.
Employee Turnover
An important issue that was discussed with those interviewed was worker turnover. Each manager stated that when the economy is in a downturn, he or she has very few job openings because there are fewer opportunities available elsewhere. Furthermore, when openings do occur, they are easily filled (e.g. underemployed engineers and geologists). Conversely, a growing economy creates difficulty in hiring and retaining qualified individuals in DEQ. This is due largely to the higher salary levels in private industry compared to what a state agency can pay for the same occupation/skill level.
An impending issue that confronts the agency is that 28.3% of DEQ's workforce is eligible to retire within 10 years (or are age 55 or older). Thus, succession planning appears to be an important concern. However, the managers interviewed stated that with a substantial workload currently, succession planning has not been addressed.
Recognize Technological Applications Affecting Labor Requirements Unique to the Regulatory Environment
In general, those interviewed expected little change in labor requirements because of technological changes. Most stated there are few areas in their jobs that could be automated or altered by technology. For instance, one manager stated, "It is tough to automate much. You can't send robots out to do inspections." However, some mentioned changing technology in the areas they regulate and most mentioned changing legislation that would eventually affect staffing requirements. For instance, many of the oilfields in Wyoming were issued permits many years ago under a different, more lax set of regulations. In order to renew their permits, the oilfields are expected to comply with the new set of regulations. In addition to significant work on the part of the firm seeking the permit – for example, attainability analysis or biological studies – the change places additional workload on the DEQ staff who now have to review the vast amount of permitting information.
New technologies have the potential to increase or decrease the regulatory load. For example, in some industries the push to automate as many monitoring systems as possible may decrease the workload for DEQ staff. In contrast, the implementation of carbon sequestration and storage would require oversight by the Water Quality Division because of the risk of groundwater contamination. In some cases the technology may shift the burden from one regulatory division to another. For example, wind turbines, while considered clean energy, do have gear boxes that generate used oil every month. Its disposal must be monitored by the Solid and Hazardous Waste Division, thereby increasing the need for monitoring staff. However, if wind generation displaced some coal-generated power generation, this may ease the workload of the Air Quality Division.
In conclusion, the regulatory environment will certainly be a changing landscape in the next decade and beyond. Only time will tell what technologies will prove feasible and economically viable, thus becoming important factors in the economic activities of society, and which will fall by the wayside. Changes in legislation either of a regulatory nature or through the subsidization of certain technologies at the expense of others will also shape the future of energy production, pollution control, and environmental remediation. This in turn will affect the nature of occupations and skills necessary in a changing industry mix.
More detailed information can be found in the paper, "A Change in Course: Jobs in the Regulatory Environment."
References
Casper Star-Tribune Staff. (2010, October 6). Red Desert water plant opens today. Casper Star-Tribune.
Lacock, T. (2010, November). New waste-to-energy plant slated for Wheatland. Wyoming Business Report.
The Carbon Sequestration Working Group. (2009). Report and Recommendations of the Carbon Sequestration Working Group to The Joint Minerals, Business, and Economic Development Committee and The Joint Judicial Committee of the Wyoming State Legislature. Retrieved December 1, 2010.
Wyoming Department of Environmental Quality. Mission Statement. Retrieved February 1, 2010.