Energy Efficiency
A Change in Course: Jobs and the Regulatory Environment
The regulatory environment is ubiquitous in energy efficiency. In fact, all energy efficiency innovations need to be evaluated for their potential environmental impact and a determination made as to whether or not they will need to be regulated. Few realize that even those technologies with the most benevolent appearance may have side effects needing regulatory attention.
---
Also from the Rocky Mountain and Northern Plains Consortium
---
Cognitive Interviews for the Wyoming Department of Employment: Testing a Job Skills Questionnaire
Wyoming Survey and Analysis Center
Technical Report No. SRC-1014
The Wyoming Department of Employment (WDOE), Research & Planning Section, enlisted the Wyoming Survey & Analysis Center (WYSAC) to conduct 10 cognitive interviews at various locations throughout the state of Wyoming. The goal of these interviews was to test how well the questions included in the Job Skills survey perform in achieving the intended purpose of this instrument, which is to be used by the WDOE in the future; namely, to effectively yield the information necessary to help educators and employment training organizations identify necessary skills and develop curriculum to forge these skills in the labor pool.
---
New Hires Survey: Employer Cover Letter and Questionnaire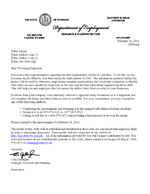 New Hires Survey: Employer Cover Letter
and Questionnaire
Beginning in 2010, Research & Planning sent this cover letter and questionnaire to Wyoming employers in order to collect information on new hires and the jobs they worked.
---
Methodology
Logistic Regression Modeling and Worker Retention
By Douglas W. Leonard, R&P, February 18, 2010
---
Text Mining: A Survey Application (Draft)
By Sara Saulcy, R&P, March 31, 2011
---
---
What is a 'green job'?
According to the Bureau of Labor Statistics, green jobs are either:
Jobs in businesses that produce goods or provide services that benefit the environment or conserve natural resources.
or

Jobs in which workers' duties involve making their establishment's production processes more environmentally friendly or use fewer natural resources.
Source: http://www.bls.gov/green/